300mm portable traffic light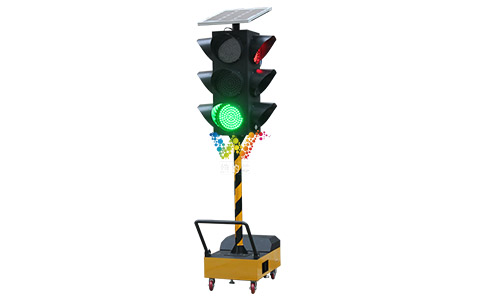 Product model: WDM-YD300-01
1. Lamp size: 1020*370*370MM
2. The bottom box size: 800*600*400MM
3. Total height 3200MM (including solar panels)
4. Lamp Bead Category: Taiwan Crystal Chip Lamp Beads
5. Number of lamp beads: 75 red, yellow and green *4
6. Red wavelength: 620-625NM
7. Yellow wavelength: 590-595NM
8. Green wavelength: 520-525NM
9. Shell material: electrostatic spraying, sheet metal chassis
10. Working temperature: -40 ° C -65 ° C
11. Protection level: IP65
12. Battery: 12V/100AH
13. Working voltage: DC12V
14. Rated power: red/yellow 20W green 24W
15. Solar panel: 80W/18V
16. Service life: 100000AH
17. Visual distance: ≥1000M
18. Working mode: remote control or manual control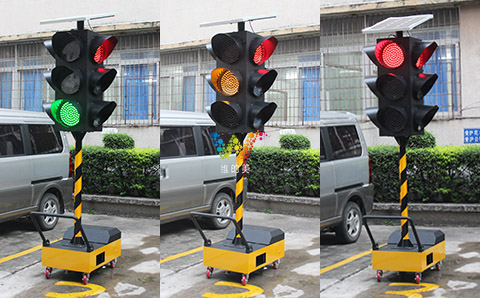 The mobile portable traffic light is mainly used for traffic roads, it is a mobile solar emergency traffic light.
Adopting solar energy, the light source adopts high-quality LED energy-saving light source, suitable for intersections,
without cable connection, that is, no need to break or overhead lines, installation is very simple, saving time, labor and
cost, easy maintenance, power failure or maintenance traffic lights In the case of emergency command vehicles and
pedestrians; its mobility is very strong, can be arbitrarily moved signal lights, placed in various emergency needs intersection.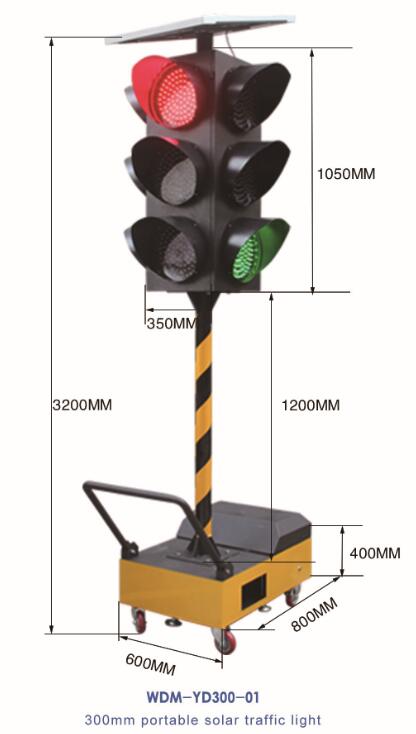 Characteristics of our portable traffic lights
1.The cart casters of the traffic lights use 360-degree movable casters for easy movement. With brakes at the same time.
2.The 5mm thick flange used to move the traffic light poles enhances the stability of the product.
3.A fixed suction cup has been added to the bottom of the mobile traffic light trolley to make the product more stable.
4.The mobile traffic light adopts Taiwan crystal chip lamp beads, high brightness, high refresh rate and long service life.
5.The mobile traffic light uses 60W/18V solar panels, solar power supply, energy saving and environmental protection.
6.The mobile traffic light adopts a mobile trolley, which is convenient to implement and saves time and effort.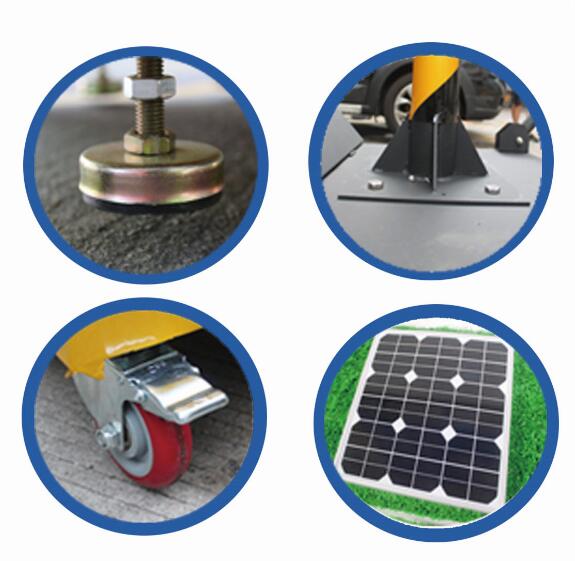 If you are interested in our product,Please fell free to contact with us
Email address :fiona@wdm88led.com
Skype: fionahuang0812
Wechat /Whatsapp: 008613652406263
QQ:3119891619
---
Post time: Apr-18-2019