Temporary mobile traffic lights installed in Yantian District, Shenzhen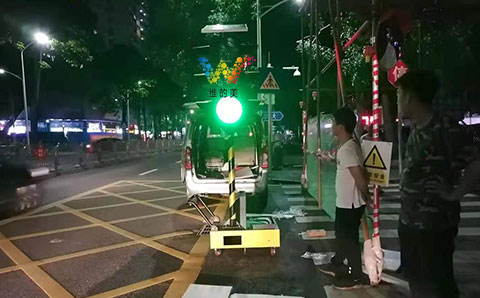 In the second half of 2019, construction sites are in close construction. The second half of the year is a busy
season for many infrastructure projects. Therefore, in order to avoid traffic accidents, many intersections have
temporarily installed solar temporary traffic lights at many intersections. Especially in Shenzhen, we installed
a lot this week. Now let's talk about the solar temporary traffic lights we installed in Donghai Road, Yantian
District, Shenzhen.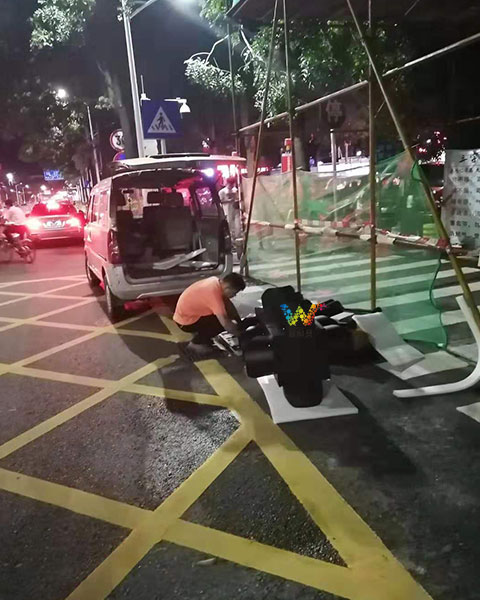 Second, the effect of installing solar temporary traffic lights:
Solar temporary traffic lights, super high efficiency, we received a call from the Yantian District Traffic Police
Brigade in Shenzhen in the morning, asking us to install this temporary traffic light at night, because there
are temporary political tasks, temporary intersections, need to turn off the traffic lights at the intersection,
Then immediately work, in this case, we immediately took out the goods in the warehouse to the customer
to install, our company, Shenzhen Wei Photoelectric Co., Ltd., did a lot of temporary traffic lights across the
country, this time prepared a lot of goods, so Basically there will be stock.
3. On-site installation of temporary mobile traffic lights in Tokaido, Yantian District,
Shenzhen:
In fact, our company is not very far from Yantian District, Shenzhen, about 23 kilometers, because we can
often bring customers to the beach. If you buy temporary traffic lights, we can also take you to the beach to
play. The company has a special car. So it took us about half an hour to put this temporary traffic light, oh,
and our company thanked the workers directly to Yantian District for installation.
The location of this installation is in Donghai Road, Yantian District, Shenzhen, or our regular version of the
4-sided three-lamp mobile traffic lights. Every month is full, each face is made up of a red full plate plus a
yellow full plate. The last green and full combination, one interview three lights, a total of 4 faces, a total of
12 lights, this kind of lamp is the most common, you can also complete the direction of many temporary
intersections.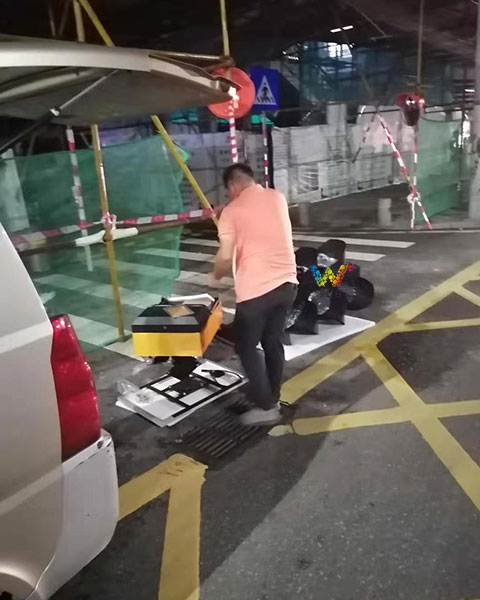 4. How long can the temporary mobile traffic lights in Tokaido, Yantian District, Shenzhen
be used?
 The mobile traffic light solar panel in Tokaido, Yantian District is 60 watts, and the battery is 120. It is the
most commonly used. This solar mobile traffic light can basically be used for more than 30 days of rainy
days. In the absence of the sun, it can be used for 30 days. Basically, all year round, as long as you don't
hit it, there is no problem with this product warranty for more than 5 years. Even if you need to change it
after 5 years, it only needs to change two accessories, one is solar energy, and the controller is solar energy.
There is no problem after the battery is replaced, so the current solar traffic light, our company Shenzhen Wide
Way Optoelectronics Co., Ltd. is very professional
 After we went to Donghai Road, Yantian District, Shenzhen, we installed the product within half an hour with
the construction team of the traffic police brigade in Yantian District, adjusted it according to their requirements.
The most suitable time for the intersection was very Thanks to our company's thank you, to be a product must
be a product for a long time, must be the most skilled, because this will not cause problems, and such as our
temporary traffic lights, Shenzhen everywhere, Guangdong everywhere, all over the country is everywhere.
In addition to solar temporary traffic lights, Viemei also produces other traffic lights:
 1, 200mm red cross green arrow traffic lights
2, 125mm red and green traffic lights
3, 125mm teaching red yellow green traffic lights
4, 100mm red yellow green traffic lights, etc.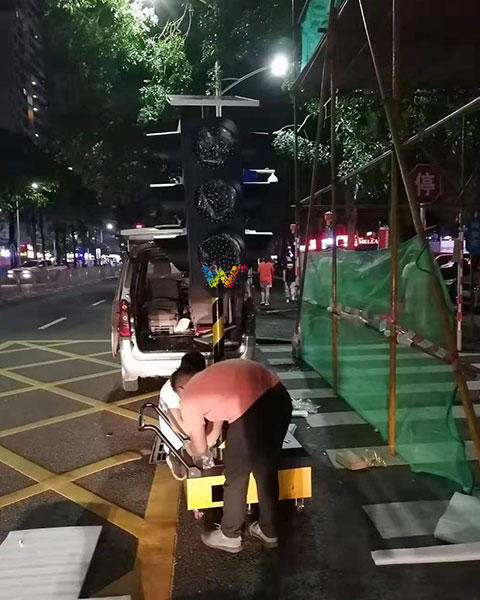 If you are interested in our product,Please fell free to contact with us
Email address :fiona@wdm88led.com
Skype: fionahuang0812
Wechat /Whatsapp: 008613652406263
QQ:3119891619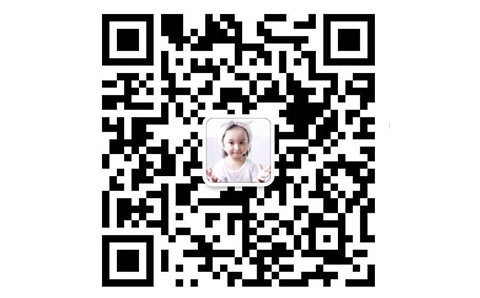 ---
Post time: Sep-03-2019