Last week, we were able to complete 12 sets of 4 m * 1 m tunnel displays.
The 12 tunnel displays are made up of 64 high-end P31.25 modules.
This is a full-color tunnel information screen that induces vehicles
and provide weather ,traffic situation information
to achieve a dynamic path guidance system
for priority travel routes within the control range.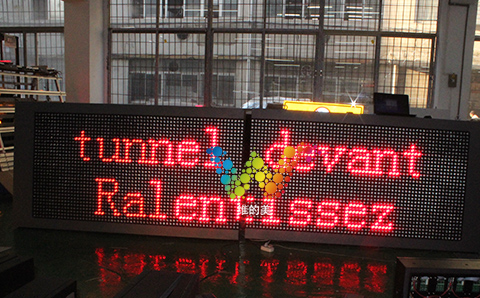 The tunnel information screen is mainly applied to highways, tunnels, etc.
The driver can be prompted for current road traffic information:
Such as construction in front, warning signs such as high traffic accidents,
strong winds, dense fog, speed limit lights and other warning signs;
Can also display simple graphics, speed limit values, etc.
So that the driver can better grasp the current road
The situation can also be used as a city road indication.
In order to prevent the driver from getting familiar with the road,
the traffic is wrong and the traffic is blocked.
Such conditions are conducive to reducing the occurrence of traffic accidents.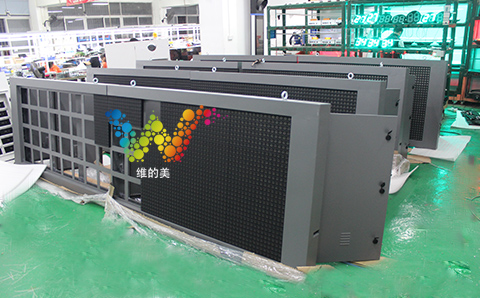 1. The tunnel information screen system uses 10M Ethernet to transmit data.
2. The tunnel information screen uses ultra-large capacity data storage:
the controller is equipped with one or two simplified Chinese character libraries.
The position is adjustable. Can store some fixed display content (more than 100),
and can be based on the monitoring center the command is called.
3. The tunnel information screen has a variety of playback modes: direct display, left shift, right shift, up shift, down shift,
The setting method of the wording mode, the word speed, the dwell time, the font, the size, and the setting.
4. The tunnel information screen can set the maximum brightness
and minimum brightness of the display: this function allows the user to set the whole
The highest display brightness and the lowest display brightness of the display.
Due to the brightness of the light-emitting diode in it
The brightness is attenuated during the lifetime. After the display
has been in use for several years, the display brightness has decreased.
Generally, the new display sets its maximum display brightness to 70%-80%
. After several years, when the brightness is lowered, reset the parameter to increase its brightness.
In order to ensure the display effect of the display, the display time of the display can also be extended.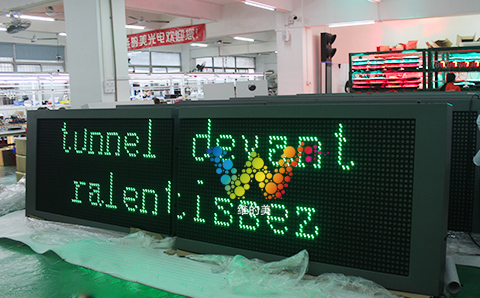 Any inquiry of the tunnle LED display please contact us freely at below 
Email address : fiona@wdm88led.com
Whatsapp :008613652406263
---
Post time: Jan-10-2019